| | |
| --- | --- |
| Musical Saw Microphone Holder | |
Microphone Holder only – Does not include Microphone
---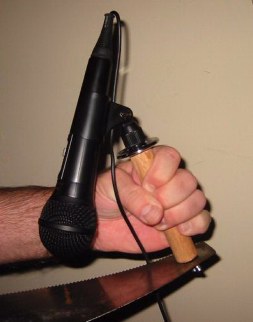 Musical Saw Microphone
Note - in the picture I have included a microphone. - The Microphone does not come with the Mic Holder. You must order that seperately
Here is a picture of me using the saw microphone (actually, the cord goes behind my hand, I was just posing for the picture). Aim the Mic at about a 45° angle. The beauty of this arrangement is that no matter how much you bend the saw, the mic stays relatively close to the blade. More important, you don't have to worry about banging the mic with your saw so you can focus on playing.
The mic has a tendency to pick up bow noise so if you can dial the treble all the way down you will hear just the saw and no bow noise whatsoever.
If you have your own Mic, you may purchase just the bracket and tip handle (Everything except the microphone - you would slip your mic into my mic holder.)
---
Copyright 2010 MusicalSaw.com. All rights reserved.